Welcome to the Church of St. Luke Religious Education Home Page
This email address is being protected from spambots. You need JavaScript enabled to view it.

, Director of Religious Education,

This email address is being protected from spambots. You need JavaScript enabled to view it.


Paul Petersen, Confirmation Director,

This email address is being protected from spambots. You need JavaScript enabled to view it.
Religious Education Office Hours: Monday - Friday 9:30 - 4:30
Call for an appointment or leave a message at 201-447-2779
Our Religious Education program exists to support and enable parents to honor the commitment made at the baptism of their children. At baptism parents promised to raise their children in the faith. We as church made a commitment to assist parents in this process.
In Chapter 10 verse 27 of St. Luke's gospel, Jesus lays down the plan for inheriting eternal life. It is simple. We are to love God and others with all of our being. Helping the children understand this will fulfill what we promised in baptism, to teach them what it means to be a true follower of Christ.
It is the goal of Religious Education to bring the young and not so young, to know more fully and deeply the Word of God, Jesus The Christ. In St. Luke's Gospel we hear this the Greatest Commandment; to love with all of our being. Our mission then is to love with the love of Jesus.
And so as we continue together on our journey in faith, this year we will continue to focus on the theme:
"DO TO OTHERS AS YOU WOULD HAVE THEM DO TO YOU" Lk6:31
So as we face what is and always has been the unknown future, let us do as Joshua was told: "Be strong and courageous" doing unto others as we would have them do unto us.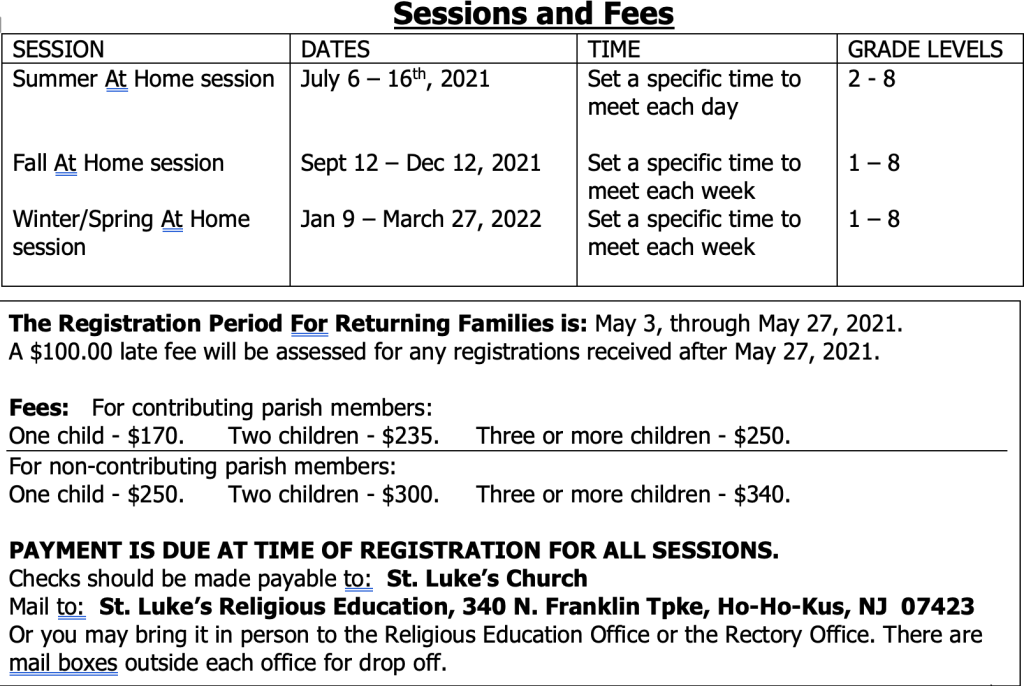 Religious Education Registration 2020-2021